Could we possibly be looking at another White Christmas this year? What is everyone's thoughts??



Posts

: 35


Join date

: 2010-01-04


Age

: 46



I think we will. i am also intrested in a storm mid next week.



Posts

: 9


Join date

: 2010-09-27



Hope we get atleast 4 or 5 inches. Last Christmas eve was hoping for that and only got a dusting.



Posts

: 106


Join date

: 2010-01-26



Here is what the latest NAM model is forecasting for snow accumulations here in SW Missouri:
[img]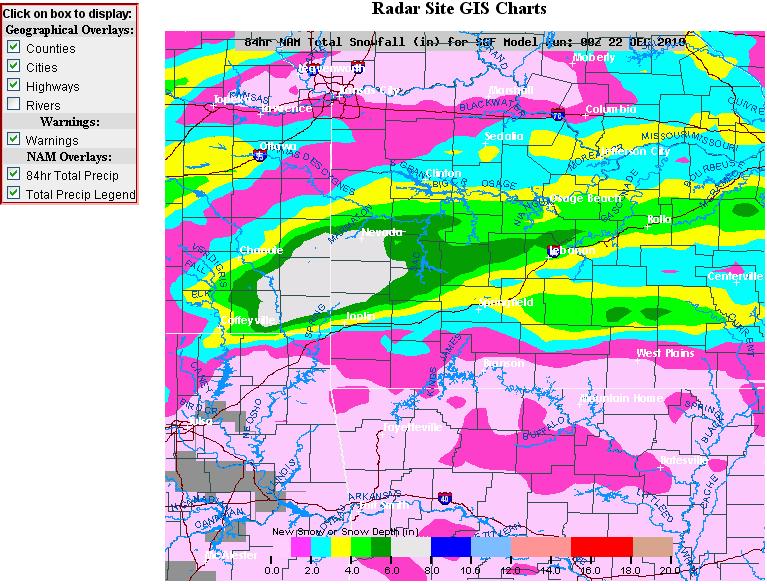 [/img]
As of this posting, there are still no advisories, watches or warning for any part of the KSPR viewing area. But stay tuned, I'm very sure some will be issued by Wednesday night.
Last edited by Bowtie on Wed Dec 22, 2010 1:06 pm; edited 1 time in total (Reason for editing : Shortened informationin post)
Here is the updated NAM forecast model. It has decreased the snow amounts in Vernon County (Nevada) as well as Polk County but it has increased the snow amounts in parts of Christian, Webster, Wright, Dent, Iron and Reynolds Counties in Missouri and Boone, Marion, Newton and Searcy Counties in Arkansas. I do want to note that, according to the NWS Forecast Office in Pleasant Hill (Kansas City), this storm system has shown signs of moving slower than previously thought and current indications are that this storm may potentially track further south than previously expected which could lead to changes to precipitation type and amounts. However, there still remains some uncertainty as to the exact track and timing of this storm system.
Here is the latest Hazardous Weather Outlook released by the NWS Pleasant Hill:
"A WINTER STORM WILL APPROACH THE AREA FOR THE HOLIDAY TRAVEL PERIOD.
LIGHT SNOW MAY DEVELOP NEAR THE IOWA BORDER BY THURSDAY
AFTERNOON...WITH THE PRIMARY SNOWFALL REMAINING IN IOWA.
HOWEVER...LIGHT ACCUMULATIONS MAY BE POSSIBLE THROUGH FRIDAY MORNING.
THE BULK OF THE PRECIPITATION WITH THIS STORM WILL ARRIVE FOR FRIDAY.
WHILE THE PRIMARY WEATHER TYPE AT THIS TIME WILL REMAIN SNOW...A VERY
BRIEF MIXTURE OF SLEET OR FREEZING DRIZZLE COULD BE POSSIBLE SOUTH OF
INTERSTATE 70 FRIDAY AFTERNOON. SNOW WILL TAPER TO FLURRIES FOR CHRISTMAS
DAY.
SNOWFALL ACCUMULATIONS ARE EXPECTED TO REMAIN LIGHT IN NATURE WITH
MOST AREAS RECEIVING A TRACE TO 3 INCHES OF SNOW.
MODELS INDICATE THE
POTENTIAL FOR BANDED PRECIPITATION ACROSS PORTIONS OF CENTRAL AND
SOUTHERN MISSOURI...POTENTIALLY LEADING TO SLIGHTLY HIGHER TOTALS
IN SOME LOCATIONS
. PERSONS WITH TRAVEL PLANS SHOULD STAY TUNED FOR
LATER FORECASTS OVER THE NEXT SEVERAL DAYS...AND BE PREPARED TO
ADJUST TRAVEL PLANS BEFORE CONDITIONS DETERIORATE."
Here now is that updated NAM model:
[img]
[/img]
Last edited by Bowtie on Wed Dec 22, 2010 12:59 pm; edited 1 time in total (Reason for editing : Removed some information)
dnuc11 wrote:hey can u put a link on this page for that site??
Here is that link:
http://www.wxcaster.com/models_main.htm
The models I have been using for this storm are the NAM Radar Site Snowfall Overlays and the GFS Radar Site Snowfall Overlays. Please keep in mind that these models update every 6 hours.
Enjoy!
Bowtie
Since the forum here seems to be having some issues with posts being cropped, I have posted some updated information about the upcoming snow event of Christmas Eve over on Blogspot.com.

Click here to view what I would normally post here in the forum:
http://bowtie-christmaseve2010storm.blogspot.com/2010/12/update-as-of-730-am-12232010.html


Similar topics
---
Permissions in this forum:
You
cannot
reply to topics in this forum